A travel physician assistant is a medical professional who provides healthcare services under the supervision of a licensed physician. They can prescribe medications, order and interpret diagnostic tests, and provide patient education and counselling.
Travel physician assistants are trained in a variety of medical settings, such as hospitals, clinics, and physician offices. They may also work in other settings, such as community health centers, long-term care facilities, and school and industrial health units.
Travel PAs may choose to specialize in a particular area of medicine, such as family medicine, pediatrics, or surgery. They may also choose to become certified in a subspecialty, such as geriatrics or sports medicine.
A travel physician assistant who wishes to travel may find positions with relief organizations, such as the Red Cross or physicians who offer telemedicine services. They may also find positions with companies that provide medical services to employees who work in remote locations, such as oil rigs or mines.
Keep in mind that it is possible to work as a Traveling Physician Assistant without being licensed in the state that you are working in. However, this is not recommended as it could jeopardize your career.
Once you have met all of the requirements, you will need to submit an application to the state medical board. If you are licensed in multiple states, you will need to submit an application to each state's medical board. The application process can be completed online.
Once you have been licensed, you will be able to start working as a Traveling Physician Assistant.
The Benefits of Becoming a Physician Assistant Travel
The demand for physician assistants is on the rise, and one of the most popular ways to meet this demand is through travel PAs. Travel PAs work in temporary positions at hospitals and other healthcare facilities around the country. This type of job allows PAs to gain valuable experience in a variety of settings and to help fill in the gaps when full-time staff are unavailable. PAs are often the first point of contact for patients, and they play a vital role in providing quality care.
One of the great things about being a PA is that you can choose to work in a variety of settings. You can work in a traditional doctor's office, a hospital, or even a clinic. You can also choose to work in a more specialized setting, such as a surgery center or an urgent care facility.
There are many benefits to working as a travel PA. For one, it can be a great way to see the country and experience different cultures. Travel PAs also have the opportunity to learn new skills and expand their knowledge base. And because they are in high demand, travel PAs often earn higher salaries than their full-time counterparts.
Some of the other benefits of becoming a Physician Assistant include;
Opportunities for career-building PAs travel jobs
Job placement as an assistant to a PA recruiter
The freedom of choosing the place, schedule, and location of your practice setting
Credentialing and licensing assistance for a travel assignment
Paid travel, free housing, excellent compensation, and liability coverage
Extended chances to visit places and new cities and meet families while managing assignments
It is also mandatory to choose locum tenens assignments for travel PAs at any phase of their career. This brings the chance of travelling with their spouse, best friend, pet, or family.
Experience Required for Becoming a Physician Assistant Travel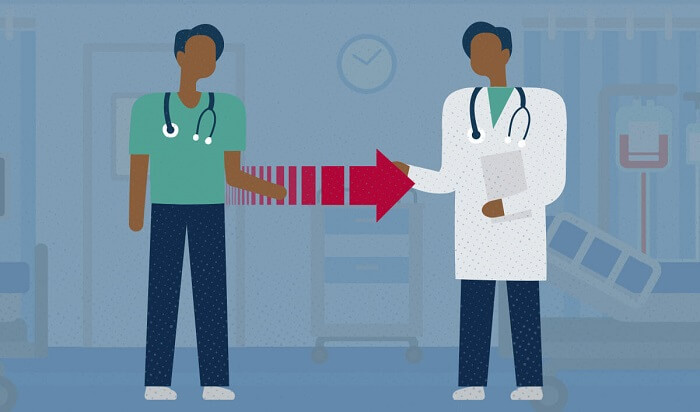 The requirements for becoming a travel physician assistant vary from state to state. In most states, a bachelor's degree and successful completion of an accredited PA program are required. In addition, most states require travel PAs to pass a national certifying exam, as well as a state-specific jurisprudence exam. Some states also require licensure.
PAs who wish to specialize in a particular area of medicine may need to complete additional training. For example, PAs who wish to work in surgery must complete a surgical residency. Those who wish to work in pediatrics may need to complete a pediatrics residency.
In addition, you will need to have a minimum of two years of experience working as a physician assistant. Plus, you will need to be certified by the National Commission on Certification of Physician Assistants (NCCPA). Once you have these requirements, you will be eligible to apply for a position as a physician assistant travel.
Physician Assistant Career Current Stats
If you're considering a career as a physician assistant, you're in good company. The demand for PAs is expected to grow much faster than the average for all occupations between 2018 and 2028, according to the Bureau of Labor Statistics. And with a median salary of $121,530 per year and $58.43 per hour, PAs earn a very respectable wage. More approximately, the average salary of PAs raises by a percentage of 4.5% as seen in the year 2021-2022.
Of course, salary and job growth are just two of the factors you should consider when making a career decision
There are many reasons for this rapid growth. With the increase in population, there is a direct effect of an increase in demand for healthcare services. At the same time, there is a shortage of primary care physicians, which has created a need for mid-level providers such as physician assistants. Additionally, the Affordable Care Act has expanded access to healthcare, which has also contributed to the growth of the physician assistant profession.
While the demand for physician assistants is high, so is the competition. To be successful in this field, you need to have the right skills and training.
Reasons Why Someone wants to become a Travel Physician Assistant?
While there are benefits discussed above of becoming a travel physician assistant. However, here are some more of them that you should consider. Some particular reasons include;
Earning extra income
Get along with a practice under a physician before having a permanent role
Exploring different regions, cities, and states
Exploring diversified healthcare settings
Receiving financial perks
Opportunity to fill the gap once you're graduate
Freedom of work
Make travel physician assistant your full-time career.
Related Articles: