The medical industry has seen a rapid shift from being manual to everything transformed digitally within a few years. The whole system is now being operated digitally using Electronic Health Records (EHR) systems which enable healthcare providers to navigate patient data electronically. 
Possibly, you know about EHR systems but choosing the right from several types of electronic health record systems can be challenging for the healthcare practitioners. It all depends on the tailored needs and certain requirements of every medical healthcare provider or organization to choose the EHR that suits them the best.
When providers are supposed to select a system for their practice, they figure out it wasn't a simple decision to make as often EHR systems may not be in one-size-fits-all formats. This is why they need to comprehend what EHR is first, and then move on to understand its types to adapt to their healthcare needs efficiently.
What is an EHR?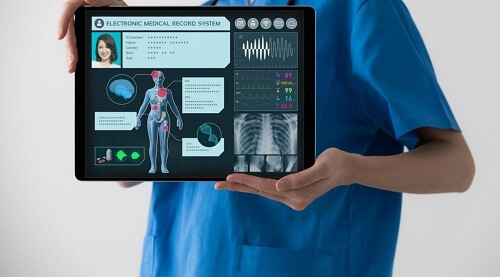 Electronic health records are a unified system that providers use to stay on track when it comes to gathering patients' information regarding health and demographics. This is basically computer software with a strong database that maintains patient records safely.
"EHRs transform practices to meet its needs and the needs of its patients."- American Academy of Family Physicians (AAFP)
EHR provides a range of benefits by keeping all the data in one database that is accessible to various networks and platforms by using specific patient credentials. This means if a patient needs to see another doctor for the same diseases which were treated by some other doctor, the patient does not need to carry the lab test reports, prescriptions, scans, and insurance information in a paper format with them. By just using patient-specific credentials, this data can be acquired from another physician's desk and can be reviewed by the provider to check the medical history of a patient. This is all performed under one single information handling software EHR which eventually automates workflow.
Benefits of using EHR
As mentioned, providers can achieve several benefits from EHR which ultimately has no limits. One of the notable advantages of EHR is its simpler techniques through which providers not only are able to access the data but they become aware of the medication reaction sooner before prescribing.
Another mentionable benefit of EHR is that EHR where providers share information with multiple healthcare platforms also provides the opportunity for physicians to learn about labs and critical values quickly. These kinds of information sharing lead to sharing information among patients and practitioners which helps improve overall healthcare provision.
However, according to a survey, about 78% of healthcare providers report that being able to integrate EHR systems in their practice has increased the efficiency of healthcare significantly.
Types of electronic health record systems
As mentioned, an efficient EHR system would depend on the practice's needs and requirements. Besides, several EHR systems have been introduced now and they have both advantages and disadvantages. Here are some types of electronic health record systems;
1. Physician–Hosted System
In a physician-hosted system, patient data is hosted only on the provider's server. This means that the provider will be liable to purchase the associated technological equipment to maintain the data such as software and hardware and protect them by implementing security on the data servers.
This type of electronic health record system where the data is handled in-house would work more efficiently with large healthcare firms where the large budgeting of practices can cover the high cost of software and equipment. Having an in-house EHR system will expedite the process and would be more accessible and reliable when needed.
2. Remotely-hosted System
In remotely-hosted data, it shifts the storage of patient data to a third party to maintain. This party will be responsible to handle the data, maintaining it, providing security, and making backups for data in case of breaches. This remotely-hosted EHR system is more feasible for small medical organizations that can focus more on providing healthcare services and gathering data instead of consuming the whole day collecting data and organizing it in the most desirable way. 
3. Remote EHR systems
Apart from remotely-hosted systems, EHR types also include remote systems. These remote systems can be a variety of types to choose from;
Subsidized – Through a subsidizing EHR, providers can find some other entity that will manage the cost of EHR. Typically, this kind of subsidizing relationship is made between the provider and the hospital but later on, subsidizing the entity can put you in legal hot waters for ownership and antitrust issues, etc.
Dedicated – In a dedicated host system, a provider will keep the data on EHR on a third-party's server. These third-party vendors can be in different locations where providers mostly cannot access many functions of the data storage through this system.
Cloud – Cloud or internet-based EHR system is one of the most popular types of electronic health record systems. Through cloud-based EHR systems providers do not need to manage data on their own servers, but they are secured over the cloud and this is why can be accessed from anywhere in the world without connecting to the provider's own server to gather patient details and records.          
How to opt for the right EHR system for your organization?
When providers use technologies to produce their own servers to manage EHR systems, they need a team of IT experts to manage and update data servers timely and maintain the server security. However, this is not a popular type and is not attainable for every practice. Instead, there are attractive options that providers look for such as cloud-based EHR systems.
The advantage of using a cloud-based EHR system is that it is cost-effective for many individual practices that often are not hiring a team of IT professionals.
Physician-hosted systems, however, are beneficial for large organizations where they need to have complete control over data with a dedicated IT professional team working on claims and billing as well. Large organizations also likely want to optimize data and persuade security to keep things manageable and under control.
To figure out what EHR system is good for your organization, here's a comparison to know them better;
Hosted EHR vs Server-Based EHR
A hosted EHR system means that all the data and information will be sent to a vendor outside the practice premises to handle. The vendor will be responsible for security and handling data. Providers choose hosted EHR systems due to a lower cost of maintenance and unavailability of resources need to hire IT, professionals. However, due to the distance between practice and vendor hosting, EHR runs at a slightly lower level.
A server-based EHR or a physician-hosted EHR installs servers and manages databases inside the medical practice. With this type of electronic health record, the cost of hardware, software, and the upfront cost of hiring professionals increase but over time, the price is compensated by leasing software for EHR hosting.
Cloud vs physician-hosted EHR
The only difference that differentiates the cloud from all the other types of EHR systems is the cloud management of databases. Cloud systems are always regulated over the internet through third parties while physician-hosted EHR requires a team of experts who manage and design the server locally on their own.
Liability risks with EHR systems
When important data is managed electronically, the risk factors remain there to haunt. Here are a few things that you need to understand if you want to navigate the risk.
Confidentiality and security – When it comes to hiring a vendor to manage an EHR systems database, the provider needs to make sure that the vendor is conscious of the security and terms of EHR. This includes everything from strong data and granting access to the use of the EHR system. To prevent security issues, choose a vendor with experience in handling EHR system databases and who is compliant with all federal and state guidelines to secure personal information and health records.
Giving authority to access patient data will have a chance of great financial liability. For this, special training for employees is required to protect the confidentiality of data.
Integrity and accurate data entry – EHR systems can only be beneficial for you if the data in the server is properly added. Incorrect information, errors in the data, and incorrect patient records can seriously damage the whole system. No matter what type of electronic health record providers use emphasize on entering proper data and correct patient information. Ensure that a creditor author is designated for the data entry. Otherwise, there'll be no one to take responsibility for pouring incorrect data into the system and there'll be only the provider who'll face the liability.
Extensive information – The same goes with duplicate and additional information, when medical staff does not find the relevant information about a patient, they often make another record that duplicates the already existing one. To avoid duplication and adding/missing information, it is suggested to take out prints of the information and the patient's history.
Legal matters with EHR systems
A provider must only connect with a vendor for the EHR system management under a contract or legally binding. Making contracts are important steps to pay attention to as it would make a difference when there's a need for keeping someone liable for data breaches, theft, and malpractices.
A legal binding – An experienced EHR vendor will not hesitate to make a contract with you prior to work as they guarantee you the health and safety of the patient data.
Ownership – A vendor-provider relationship is initiated with a bigger and clearer picture that washes out the ambiguities about owning the information. Here, regardless of whoever is maintaining your EHR system, providers are responsible for owning the data. With EHR patient portal, patients will also like to be aware of their health and data so they can plan personal litigations, disability claims, or continuation/termination of care.
Problems associated with operations – You can be in serious trouble if a patient gets hurt due to wrong EHR information. You need to be very vigilant about identifying and evaluating data errors in your EHR system. As healthcare databases are continuously evolving, therefore, outdated information can make many diseases less severe or other changes that can harm patients. These kinds of errors can hold the provider liable.
Use of obsolete technology – It is also important to not choose an EHR system that becomes inaccessible in the event of a vendor's demise or absence. If this happens it can bring serious consequences to your practice if the data in EHR does not remain accessible.
Termination issue – You must not choose a vendor that hesitates to make a strategy for termination of the agreed contract. This is an essential process in providing access to the vendors and once the contract ends, you can make it accessible to places you want. Also, your patients have all the right to know about their health records and the right to access them over time.
Ending notes
Whenever you are confused about selecting the types of electronic health records systems, you need to identify your requirements. Once you figure them out, look for the pros and cons of each EHR system that suits your needs. You definitely want a vendor who is well-versed in fitting in the entire EHR system in your practice. Once you make your recommendations, make sure to consider things like the size of your organization, your budget, and the list of tangible and intangible resources available such as software and hardware.
Another choice that you need to make is to see where you are willing to host your server or if you're considering outsourcing the service.
The important thing is to minimize the liability, cost, and risk of your practice by integrating an efficient EHR system into your practice.